Subscribe to
New Dawn Magazine

Read news and information ignored or deliberately
suppressed by the mainstream media…..
Explore new ideas and ancient wisdom, and examine the
hidden dimension of culture, history and religion…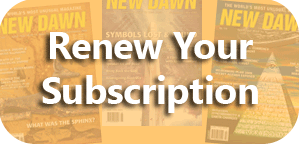 Read about
Ancient Wisdom & Mysteries
Hidden History
The Paranormal
Conspiracies & Cover-ups
Cutting Edge Science
Alternative Health….
and much more!
.
Each issue is packed with 80 pages of enlightening and
challenging information, keeping you informed on
current issues and inspired by ancient wisdom.
Along with full length articles, sections include:

• Worldwatch

• Mind Body Spirit
• Book Reviews