When Elon Musk took over Twitter, the hashtag #PfizerLiedPeopleDied immediately trended as people posted about the lies and corruption of the pharmaceutical giant Pfizer. The hashtag previously appeared before Musk took ownership but had been quickly removed thanks to mass censorship, often at the direction of Pfizer.
Pfizer was exercising its powerful influence over social media, mass media, academia, governments, and global public health, despite a record of fraud, corruption, and lies that began long before its quest to vaccinate every man, woman, and child on earth with its experimental gene therapy.
Now they were poised to do just that, with complete legal immunity to any lawsuits from vaccine injuries and death, thanks to a clause that Pfizer execs included in contracts with governments before releasing their 'vaccine'.
History of Fraud & Corruption
The lies and cover-ups surrounding the COVID-19 pandemic brought to life a host of independent citizen journalists to fight the power. One of these journalists has made a significant impact through the highly popular Substack blog Kanekoa News. In early 2023, Kanekoa News published "Pfizer Has a Long History of Fraud, Corruption and Using Children as Human Guinea Pigs." Pfizer's partial list of offences includes (the following is quoted directly from Kanekoa News):
In 1992, Pfizer agreed to pay between $165 million and $215 million to settle lawsuits arising from the fracturing of its Bjork-Shiley Convexo-Concave heart valve, which at the time had resulted in nearly 300 deaths, and by 2012 had resulted in 663 deaths.
In 1994, Pfizer agreed to pay $10.75 million to settle US Justice Department claims that the company lied to get federal approval for a mechanical heart valve that had fractured, killing hundreds of patients worldwide.
In 1996, Pfizer administered an experimental drug during a clinical trial on 200 children in Nigeria but never told the parents that their children were the subjects of an experiment. Eleven children died, and many others suffered side effects such as brain damage and organ failure. Pfizer did not obtain consent or inform the patients that they were the subjects of an experiment, not the recipients of an approved drug.
In 2002, Pfizer agreed to pay $49 million to settle allegations that the drug company defrauded the US federal government and 40 states by charging too much for its cholesterol treatment Lipitor. Lipitor had sales of $6.45 billion in 2001.
In 2004, Pfizer agreed to plead guilty to two felonies and paid $430 million in penalties to settle charges that it fraudulently promoted the drug Neurontin for unapproved uses. Pfizer's tactics included planting company operatives in the audience at medical education events and bribing doctors with luxury trips.
In 2008, the New York Times published an article entitled "Experts Conclude Pfizer Manipulated Studies." Pfizer delayed the publication of negative studies, spun negative data to place it in a more positive light and controlled the flow of clinical research data to promote its epilepsy drug Neurontin. In 2004, the company paid $430 million to settle US federal criminal and civil claims that one of its subsidiaries had promoted the drug for unapproved uses.
In 2009, Pfizer was fined $2.3 billion, then the largest healthcare fraud settlement and largest criminal fine ever imposed in the US. Pfizer pled guilty to misbranding the painkiller Bextra with "the intent to defraud or mislead," promoting the drug to treat acute pain at dosages the FDA had previously deemed dangerously high. The government alleged that Pfizer paid kickbacks to compliant doctors and promoted three other drugs illegally: the antipsychotic Geodon, an antibiotic Zyvox, and the antiepileptic drug Lyrica.
In 2009, Pfizer paid $750 million to settle 35,000 claims that its drug, Rezulin, was responsible for 63 deaths and dozens of liver failures. Rezulin's withdrawal from the US market on March 21, 2000, followed negotiations between the drug's manufacturer and the FDA.
In 2010, Pfizer was ordered to pay $142.1 million in damages for violating US federal anti-racketeering law by its fraudulent sale and marketing of Neurontin for uses not approved by the FDA. The jury found that Pfizer's marketing of Neurontin violated both the Racketeer Influenced and Corrupt Organizations Act and California's Unfair Competition Law.
In 2010, the New York Times published an article entitled "Pfizer Gives Details on Payments to Doctors." Pfizer admitted that it paid about $20 million to 4,500 doctors and other medical professionals for consulting and speaking on its behalf in the last six months of 2009. Pfizer also paid $15.3 million to 250 academic medical centres and other research groups for clinical trials in the same period.
In 2010, Blue Cross Blue Shield filed a lawsuit against Pfizer, accusing the pharmaceutical giant of illegally bribing 5,000 doctors with lavish Caribbean vacations, golf games, massages and other recreational activities to convince doctors to use Bextra for off-label use.
In 2010, leaked cables between Pfizer and US officials in Nigeria showed that Pfizer had hired investigators to unearth evidence of corruption against the Nigerian attorney general to blackmail him to drop legal action over the controversial 1996 Trovan trial involving children with meningitis.
In 2012, the US Securities and Exchange Commission charged Pfizer Inc. with violating the Foreign Corrupt Practices Act when its subsidiaries bribed doctors and other health care professionals employed by foreign governments in Bulgaria, China, Croatia, Czech Republic, Italy, Kazakhstan, Russia and Serbia to win business.
In 2012, Pfizer paid $1.2 billion to settle claims by nearly 10,000 women that its hormone replacement therapy drug, Prempro, caused breast cancer. The Prempro settlements came after six years of trials. Several plaintiffs were awarded tens of millions of dollars, including punitive damages for the drug maker's actions in withholding information about the risk of breast cancer from Prempro.
In 2013, Pfizer agreed to pay $55 million to settle criminal charges of failing to warn patients and doctors about the risks of kidney disease, kidney injury, kidney failure and acute interstitial nephritis caused by its proton pump inhibitor, Protonix.
In 2014, Pfizer paid $35 million to settle a lawsuit accusing its subsidiary of promoting the kidney transplant drug Rapamune for unapproved uses, including bribing doctors to prescribe it to patients.
In 2016, Pfizer was fined a record £84.2 million for overcharging the UK National Health Service for its anti-epilepsy drug, Phenytoin, by 2,600% (from £2.83 to £67.50 a capsule), increasing the cost to UK taxpayers from £2 million in 2012 to about £50 million in 2013.
Moving onto COVID
The corruption and fraud continued with Pfizer's ongoing campaign to hide the truth about its ineffective, dangerous, even deadly COVID-19 injections. As a result, the general public is still in the dark thanks to Pfizer's unprecedented influence over mainstream media narratives and the 'science'.
Pfizer, which has long captured US Congress with its lobbying efforts and injected billions into mainstream media to exercise influence, also done everything in its power to suppress and censor doctors and medical professionals who dared speak out about its mRNA product.
Fortunately, we have the recent revelations of the Twitter Files that exposed the extent to which Big Pharma lobbied Big Tech. The manufacturers of COVID-19 vaccines, including Pfizer, BioNTech, and Moderna, heavily lobbied Twitter and other social media platforms to set moderation rules that would flag purported COVID-19-related 'misinformation'.
Reporting on the Twitter Files, investigative journalist Lee Fang for The Intercept said, "The Pharmaceutical industry lobbied social media to shape content around vaccine policy." Fang cited as an example BIO – Biotechnology Innovation Organisation – the lobbying group of Pfizer and Moderna, which "fully funded a special content moderation campaign designed by a contractor called Public Good Projects (PGP), which worked with Twitter to set content moderation rules around COVID 'misinformation'."
PGP has direct links to the US Centers for Disease Contorl (CDC), the US Food and Drug Administration (FDA), and the US Department of Health and Human Services and has partnered with the Rockefeller Foundation. The Rockefeller Foundation, in turn, partnered with many non-profit organisations to fund behavioural psychology research intended to "nudge" more people to get the COVID shots.
Fang noted that lobbying efforts on the part of COVID-19 vaccine manufacturers against the production of low-cost generic equivalents afforded those companies massive revenues, as they "saw the crisis as an opportunity for unprecedented profit."
The Twitter Files also expose the actions of Pfizer board member Dr Scott Gottlieb, a former FDA commissioner, to suppress debate. Independent journalist Alex Berenson, writing in his Unreported Truths Substack, revealed that Gottlieb hired the same Twitter lobbyist the Biden White House had worked with to shut down posts by former acting FDA commissioner Dr Brett Giroir.
"It's now clear #COVID19 natural immunity is superior to #vaccine immunity, by ALOT. There's no science justification for #vax proof if a person had prior infection," claimed Giroir's tweet. After pressure from Gottlieb to Twitter lobbyist Todd O'Boyle, Giroir's tweet was later labelled "misleading," and the ability to like or share it was disabled, with the message: "Learn why health officials suggest a vaccine for most people." Why would Gottlieb do this? Maybe because the mRNA vaccine had become a cash cow to the tune of $81 billion and Gottlieb was paid $365,000 as a Pfizer board member in one year alone.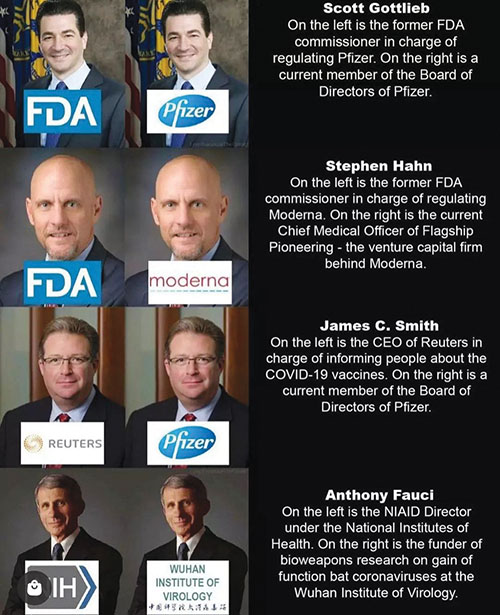 The FDA has been in bed with Pfizer and Big Pharma for years, with nine of the last 10 FDA commissioners having gone on to work for pharmaceutical companies. It's the classic "revolving door" of high-level employees from public-sector jobs moving into private sector jobs – a recipe for corruption.
The one hold-out who did not join the pharma ranks, David Kessler, explained to Quartz: "[The American people] believe that the FDA is making their decisions in their interest and no one else's." Kessler expressed concern about politicisation at the FDA, which he views as a threat to "its ability to base decisions on independent, scientific analysis."
So those hired to protect the public are in bed with industry.
Safe & Effective
It is shocking also to learn that the member of an allegedly independent "data monitoring committee" charged with ensuring the safety and efficacy of the Pfizer/BioNTech COVID-19 product was once a paid consultant and advisor to Pfizer!
Dr Kathryn Edwards' conflicts of interest were revealed by Del Bigtree, the founder of the Informed Consent Action Network (ICAN). In an interview with ICAN lead attorney Aaron Siri, details were revealed in court transcripts showing multiple instances where Edwards was coached while her testimony was in progress to downplay her prior involvement with vaccine manufacturers.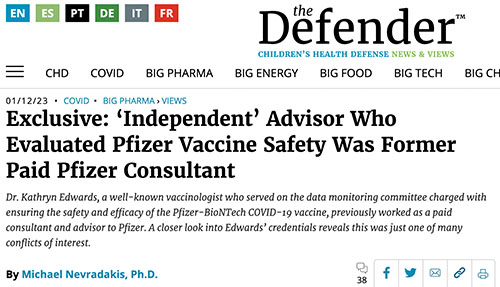 Despite the clear proof otherwise, Edwards, a world-renowned vaccinologist, denies a conflict of interest. Her case highlights the many associations and affiliations between researchers, medical scientists, and the industries they are 'independently' monitoring and evaluating. You cannot assess the safety of a Pfizer product while being paid by Pfizer.
Siri participated in the now-famous lawsuit to have the FDA release hundreds of thousands of Pfizer's documents related to the licensing of the Pfizer-BioNTech COVID-19 product. Pfizer had pressured the FDA to hold off the release for 75 years, but the lawsuit forced their hand. As thousands of pages hit the public stage, it became apparent that the vaccines were not only ineffective at stopping COVID transmission but exhibited deadly side effects, including myocarditis, and are now being linked to infertility and miscarriages etc. But Pfizer and the 'health' authorities kept promoting them as "safe and effective," even pushing regular boosters.
We already know about the thousands of emerging cases of post-vaccination myocarditis, mostly in teenage or young males, but now reports are coming in about the Pfizer shots adversely affecting the elderly!
An RT news story, "CDC Must Investigate Deadly Vaccine Side Effects," reported that the US House Committee Chair Cathy McMorris Rodgers has called upon the Centers for Disease Control to "rapidly investigate a potential link between Pfizer's COVID-19 vaccine and strokes among elderly people. The CDC acknowledged the risk yet continues to recommend that everyone over six months of age receive booster shots."
Alternative news media has been covering the explosion of cases of young and healthy athletes dropping dead on the playing field. The deaths, and those of celebrities and citizens alike, including children, are called "coincidental" or "sudden death syndrome," but now more doctors and researchers are speaking out.
Excess Deaths
When Dr Michael Yeadon, a former VP at Pfizer, retired and began speaking out about the propaganda surrounding COVID-19, including the "lie" of deadly new variants and the potential dangers of the vaccines, he was censored, banned, and ridiculed.
Yeadon continued to speak out about the mass vaccine campaigns, "injecting some superfluous genetic sequence for which there is absolutely no need or justification." His "conspiracy theories," as the media called them, and his concerns that mass vaccination was a pathway for depopulation are now front and centre after new government data showed mortality rates skyrocketed in 2022.
A news report in The Exposé on 23 January 2023, "Vaccine Genocide: Pfizer lied and 20 Million people died in just a handful of Countries according to Secret Government Reports," claimed the following: "Secret reports from the Governments of the USA, Canada, Australia, New Zealand, the UK and most of Europe have raised alarm bells as they confirm that approximately 20 million deaths have been recorded resulting in 2 million excess deaths since Pfizer lied to enable the mass roll-out of the COVID-19 injections. Sadly, further reports quietly published by the UK Government also confirm that mortality rates are lowest among the unvaccinated in every single age group. Therefore, this strongly suggests that Pfizer's lies have caused millions to die, and the COVID-19 injections are the largest contributing factor to the millions of excess deaths seen across the 'Five Eyes' and most of Europe."
Australia alone suffered 11,068 excess deaths in 2021 and then 22,730 excess deaths by week 38 of 2022, in stark contrast to 2020, when only 1,306 excess deaths were recorded at the height of the COVID pandemic and prior to the rollout of the injections. "This means Australia suffered a shocking 1,640% increase in excess deaths in just 39 weeks throughout 2022 compared to 53 weeks throughout 2020."
Are people just guinea pigs in this relentless pursuit of profits to feed the insatiable Big Pharma beast?
New Mutations & New Products
As if it couldn't get any worse for Pfizer, in January 2023, Project Veritas – a media watchdog group – published undercover footage of a Pfizer executive discussing experiments the company is running on COVID-19 and their vaccine's effect on women's reproductive health.
The video, which went viral on social media and was totally ignored by mainstream media, recorded Pfizer Director of Worldwide R&D Strategic Operations and mRNA Scientific Planning, Jordan Tristan Walker, claiming that Pfizer is exploring a way to "mutate" COVID via "Directed Evolution," similar to gain-of-function that involves "a mutation that confers new or enhanced activity on a protein" and can make COVID more potent. Walker, who was being secretly filmed and thought he was on a date at a restaurant, even acknowledges that "people would not like this information if it went public."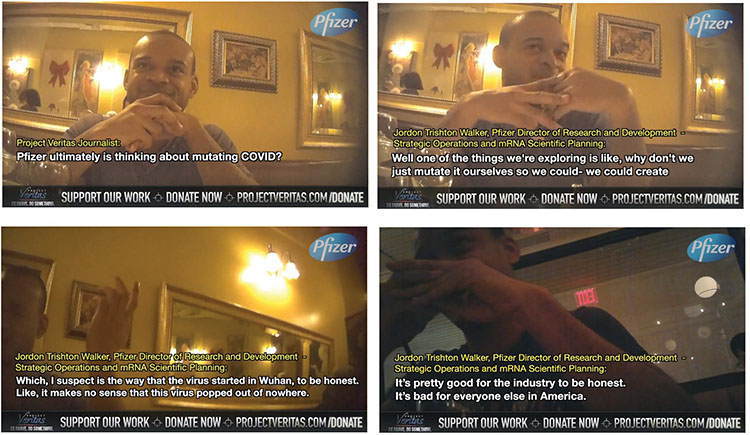 "One of the things we [Pfizer] are exploring is like, why don't we just mutate it [COVID] ourselves so we could create – preemptively develop new vaccines, right? So, we have to do that. If we're gonna do that though, there's a risk of like, as you could imagine – no one wants to be having a pharma company mutating f**king viruses," Walker said. "Don't tell anyone. Promise you won't tell anyone. The way it [the experiment] would work is that we put the virus in monkeys, and we successively cause them to keep infecting each other, and we collect serial samples from them."
As the fake date progressed, Walker revealed: "You have to be very controlled to make sure that this virus that you mutate doesn't create something that just goes everywhere. Which, I suspect, is the way that the virus started in Wuhan, to be honest. It makes no sense that this virus popped out of nowhere. It's bullshit."
Not only was Walker admitting that Pfizer was toying with the idea of attempting something similar to gain-of-function, which is supposed to be illegal, but that the virus itself was not of natural origin.
In the video, Walker also lists reasons why Pfizer's COVID jab could potentially cause issues with women's menstrual cycles and even insinuates that the company doesn't know the long-term effects of the vaccine.
"There is something irregular about their menstrual cycles. We will have to investigate that down the line, because that is a little concerning. Because, if you think about the science, it shouldn't be interacting with the hypothalamus-pituitary-gonadal axis – the hormones that regulate their menstrual cycles and things like that."
A second video showed Project Veritas founder James O'Keefe and his journalists confronting Walker, who attempted to destroy an iPad containing the recordings and called the police. When O'Keefe tried to grab back the iPad, Walker smashed it to the ground. The Project Veritas team left the restaurant before the police arrived.
Pfizer quickly released a statement denying they were conducting directed evolution research regarding vaccine development, but they did not deny Walker's statements nor that Walker worked for them. While mass media ignored this shocking story, Mr Walker and all his former employment associations with Pfizer were promptly scrubbed from all company listings and the entire internet – however, Project Veritas and other researchers had already captured proof of his employment and work history.
Pfizer has on its website, "We're in relentless pursuit of medicines and vaccines that will benefit patients around the world."
In late January, Pfizer CEO Albert Bourla announced that profits were way down for their mRNA COVID vaccine product. In an earnings release to Wall Street, Bourla stated, "Our focus is always on what is next. As we turn to 2023, we expect to once again set records, with potentially the largest number of new product and indication launches that we've ever had in such a short period of time."
In just the first three months of 2021, Pfizer made $3.5 billion from its mRNA product. Pfizer went on to make a staggering $36.8 billion in 2021. It predicts revenue of $29 billion in 2022, despite recently admitting that the vaccine does not stop transmission nor stop people from getting sick.
In her Substack blog, the writer Karen Hunt says Pfizer's massive success with COVID-19 has put CEO Albert Bourla under pressure to "come up with the next blockbuster drug. And we will all be expected to take it."
"There's a plethora of illness out there. Which ones are most likely to turn the biggest profit is the question," notes Hunt. "In the past twelve months, Pfizer launched 16 new products. On its website, Pfizer describes itself as a 'pipeline' of potential breakthroughs in the making."
Pfizer is not going away soon, and we can expect it to pound out more propaganda as it pushes a whole array of new vaccines for every possible ailment.
Will we keep going along with this and take the new shots? "Some of us will refuse," writes Hunt, "But how many of us can say that at some point in our lives we have not fallen under the spell of a drug company and the promises they gave us?"
It's high time that spell was broken.
Sources
politico.eu/article/ursula-von-der-leyen-pfizer-eu-prosecutors-office-opens-investigation-into-COVID-vaccine-purchases/
© New Dawn Magazine and the respective author.
For our reproduction notice, click here.